How Junior School Students Thrived in Term 3
For the Whole of Their Life.
How Junior School Students Thrived in Term 3
Posted 2nd October 2019
By Ellie Rolfe
Junior School is a thriving learning environment and one where students are highly engaged. Students not only learn essential literacy and numeracy skills but also enjoy a wide range of other learning experiences to develop them as a whole person.
Here's a snapshot of what we have done this term and some thoughts from our students.
NAIDOC Assembly - Christine Anu
I liked it when we got to sing with Christine Anu. - Harper (Year 1)
We got to hear more about the Aboriginal and Torres Strait Island culture. - (Year 3)
Happy Tooth Oral Hygiene Talks
The Happy Tooth lady told us that we should brush in circles when you clean your teeth. - Rile (Year 1)
I learnt that you should brush your teeth for two minutes a day. - Sam (Year 3)
I learnt about healthy food and bad food. - Ava (Kinder)
The lady told us that your teeth like vegetables but do not like things like chocolate or chocolate custard. - Airlie (Kinder)
The Tooth Fairy told us so many good things and gave us a bag of treats. - Josie (Year 2)
Start Smart Financial Literacy Talks
Captain Cash told us that there are different kinds of money like notes and coins. - Sienna (Kinder)
I learnt that you should only buy things if you have enough money to spend. - Millah (Year 1)
We learnt that we need to... wait for your wants and speed to your needs. - Ethan (Year 1)
Abermain Eisteddfod
I practiced my speech so much and I won a medal. - Anon (Year 2)
I like speaking on stage and I am glad that we get to do this every year! - Anon (Year 3)
Young @ Heart Visits to Calvary Retirement Community
We got to sing and colour in a picture with the people at Calvary. The old lady liked my picture so I gave it to her. - Poppie (Year 1)
I liked singing at Calvary and talking to the people who live there. - Jimmy (Year 1)
Spring Fair
I liked all of the rides and dances and performances at the Spring Fair. - Gracie (Year 2)
There were so many rides. All the teachers worked hard to put it together. It was so much fun! - Reese (Year 4)
'The Spring Fair is always so much fun. I like the rides, stores and animals the best! - Amalia (Year 4)
I loved going to the Spring Fair. The food was the best! - Ingrid (Year 3)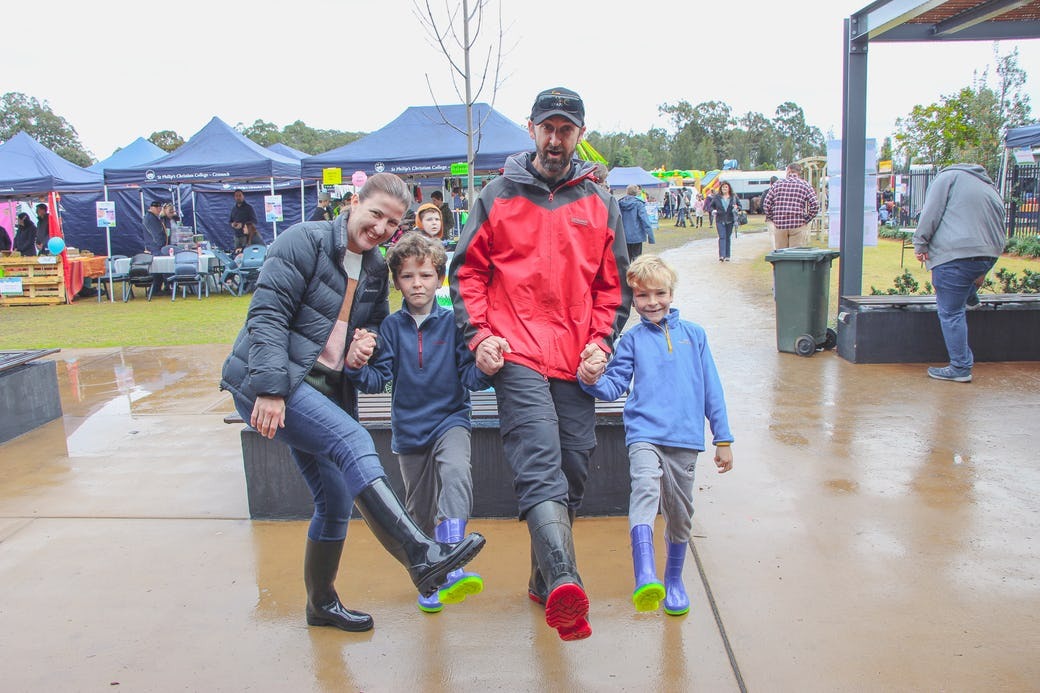 Our Junior School students weren't the only ones who thought that our Spring Fair was a tremendous success!
Read More
Spelling Bee
I liked watching the people try to spell the words right. - Jessie (Year 1)
The Spelling Bee is fun. I liked seeing people congratulate each other even when they did not win. - Anon (Year 3)
I liked it when the winner won the golden trophy! - Jayden (Year 2)
I bounced back in the Spelling Bee! - Lachie (Kinder)
India Day
I did art on India Day and we did different Indian artworks. I liked the different colours they use. - Connor (Year 4)
I loved dressing up in Indian clothes and helping our Sister School in India. - Rose (Year 3)
I like riding in the auto with Mrs Pond, because she did fun things. I went for three rides. - Anon (Year 2)
I liked going to the Indian@Hunter Restaurant. They showed us how to make Naan and Butter Chicken, then we got to eat it. - Anon (Year 4)
Family Week
I liked watching a movie and eating lollies with my family! - Joshua (Year 1)
I liked not having any homework in Family Week. I cooked mock fish with my dad for dinner. - Corey (Year 4)
I liked playing games with my family instead of playing by myself. - Owen (Year 4)
Gold Award Assembly and Zoo Excursion
I loved seeing the zoo keeper feed the lions and I liked feeding the kangaroos. - Anon (Year 1)
I liked it when I saw my Mum and Nan at the Gold Award Assembly. - Anon (Year 2)
We would like to thank our staff, students and families for partnering with us in the education of your child. We have an awesome learning community because of the incredible amount of support that we receive.
Have a safe and happy holiday.
Margaret Pond
Head of Junior School
The Life
Latest News
Get the latest news by simply entering your email address